---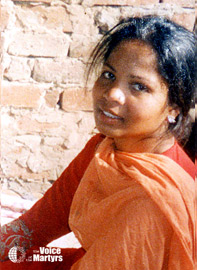 Asia Bibi was arrested in 2009 after a disagreement with Muslim co-workers. She was convicted of blasphemy against the Prophet Muhammad and sentenced to death. She has appealed to the Supreme Court of Pakistan and is currently waiting for the court to hear her case.
Asia has been in jail for more than seven years, separated by walls and bars from her husband and daughters. She has been threatened in jail, and must often cook her own food as a precaution against the possibility of poisoning. Yet she has tenaciously held onto her faith in Christ. VOM Canada's previously posted reports on Asia's case are available here.
Asia is one of many Christians who are imprisoned around the world because they follow Jesus rather than the edicts of their government or captors. They call out to God each day, and we can join in calling out to God on their behalf. Other reports relating to persecution of believers in Pakistan may be accessed by going to our online country report.
Pray that Asia and her family will remain strong in their faith. As they await the upcoming appeal hearing, may they be sustained with the loving-kindness, protection, peace and presence of God. Ask Him to use Asia's testimony in wonderful ways -- serving as a witness for Christ to guards, officials, prisoners, members of the community, and many others in Pakistan and around the world. Also uphold the legal team and judicial authorities as the appeal is prepared for presentation in court, praying that they receive divine wisdom and protection against the threats of those opposing Asia and her Christian values.
---
---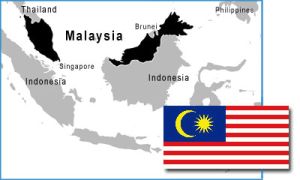 Three Christians have gone missing in Malaysia -- and friends fear they have been abducted as threats were received from jihadists because of their church work. According to surveillance cameras in the area and witnesses at the scene, Pastor Raymond Koh was taken from his car in the city of Petaling Jaya on February 13th by at least five masked men. Another pastor and his wife, who have not been named, went missing about one month prior to Pastor Raymond's disappearance.
Pastor Raymond's wife Susanna states: "I appeal to whoever has taken him not to harm him. He is a good husband, father and pastor, who helps the poor. My children and I are very anxious.... But I am very thankful and overwhelmed by the love and generosity of God's people. So many messages of support and encouragement have come in. God is good. He is faithful."
Suzanna implores: "Please continue to pray for his early release in a safe condition. Pray also for me and my children's safety. Let us persevere in prayer, for the prayers of the righteous avails much. Let us continue to love God and do good to our neighbours. Raymond would be very happy today if he knows not only Malaysia is praying for him but also the whole world."
Christians in this persecuted nation are increasingly concerned about the growing threat to religious freedom. Parliament is currently debating a bill proposing that parts of a strict Islamic penal code (hudud) be incorporated into the country's legal system. The private member's bill was proposed by Abdul Hadi Awang, president of the Islamist Pan-Malaysia Islamic Party (PAS). One of the party's main political agendas is for the full implementation of Sharia law. Learn more about persecution in Malaysia.
Thank you for joining us in prayer for Pastor Raymond and the two other Christians who were abducted. May their lives be sovereignly protected while in captivity, and their whereabouts be made known to loved ones longing for their rescue. Additionally, intercede for their captors, asking God to bring needed conviction and to shine His light of truth so their deeds will be exposed and confronted. Pray that no harm will take place against the missing Christians -- nor their concerned families -- and that the continued ministry of the Lord's peace and hope will prevail over their troubled hearts.
---
---
Petr Jasek, the Christian aid worker sentenced to life in prison for allegedly spying, is back home on Czech soil after the Czech Foreign Minister flew to Khartoum to negotiate his release. Petr is reported to have arrived in Prague after Sudanese President Omar al-Bashir issued a pardon. He was sentenced to serve more than 20 years in jail after helping a student from Darfur who had been seriously injured at a rally. The two Sudanese men convicted with him -- Pastor Hassan Abduraheem and Abdulmonem Abdumawla -- remain in prison.
The three believers were accused of funding rebel movements in areas such as South Kordofan and Darfur. Petr was sentenced to life imprisonment on January 29th after being found guilty of various charges, including spying and inciting hatred. He was also fined 100,000 Sudanese pounds (more than $20,000 CAD) for undertaking humanitarian aid work without a permit.
Pastor Hassan and Abdulmonem were each sentenced to 12 years, having been convicted of various charges. Yet their main "crime" was "aiding and abetting" Petr with his humanitarian work. Their lawyers have lodged appeals against these sentences. (A previous report on their situation may be reviewed here.)
Petr travelled to Khartoum in December 2015 to give the injured student from Darfur funds toward his medical costs. Security agents searching his bags at Khartoum Airport found the receipt for his donation and detained him on the spot, accusing him of supporting rebels. He spent 14 months behind bars prior to his recently granted pardon.
The Czech Christian aid worker has a 20-year background in the medical field, including ten years as a hospital administrator. He has worked to provide care to Christians in Sudan and Nigeria, including medical care for those attacked by Boko Haram. While rejoicing with Petr and his family over his release, let's stand with them in prayer on behalf of his Sudanese friends who are still imprisoned.