---
Just over four months ago, on November 13th, 2016, a bomb attack took place on the grounds of the Oikumene Church in Samarinda, the provincial capital of East Kalimantan. As a result of the attack, a young girl named Intan Olivia (2.5 years old) died the following morning after suffering burns on 75 percent of her body. Three other youngsters were also injured: Anita (2), Triniti (3) and Alvaro (4). A previous report on this incident is available here.
Thankfully, Anita and Triniti are now home, following hospital treatment, though Triniti continues to require regular checkups. Meanwhile, Alvaro -- the most severely injured of the surviving children -- feels "ashamed" because of his injuries and shies away from new people. Considering that he has undergone 17 different operations, his reaction to the trauma is understandable. Alvaro's mother, Novita, says he has at least stopped crying after each operation.
"I always try to encourage him by saying it is important to regain his health, and by praying with him before the operation," says Novita. "Seeing him happy is my source of strength and joy as well." The 40-year-old mother is a finance officer at the local police station, and often takes work with her during hospital visits. Alvaro's father, Hotdiman, is presently seeking new employment since his previous job took him too far from home.
Twenty-one people were arrested after the vicious attack, seven of whom had known links to ISIS. One of the perpetrators, 32-year-old Juhanda bin Muhammad Aceng, reportedly wore a black t-shirt with the message, "Jihad Way of Life," as he threw a Molotov cocktail from his passing motorbike. He was convicted of plotting a terrorist attack in 2011 and, according to police, had been under supervision since his release on parole in 2014. While no new information has been released about the status of his current trial, two of the other attackers (aged 16 and 17) were handed two-year prison terms in January.
We are thankful for the medical treatment these three young children have received, and the progress they are making. May complete healing take place both emotionally and physically, making it possible for them to live normal lives. Pray that as these children experience the Lord's tender loving care through the ministry of others, they will develop a meaningful relationship with Him. Also uphold all the families and church members who were affected by the attack -- including the family of little Intan who tragically lost her life -- that they will be greatly comforted and strengthened by the Comforter Himself. Additionally, pray for the provision of a new job for Hotdiman, enabling him to be close to his family during Alvaro's recovery.
---
---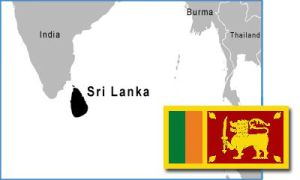 On the morning of February 10th, while the youth of Calvary Church in Morawaka were engaged in a prayer meeting, a police officer accompanied by approximately 30 villagers arrived at the church demanding that the youth stop their religious worship activities. The villagers then forcefully attempted to take away their Bibles.
After being instructed to attend a meeting at the Morawaka Police Station that same day, the pastor's wife and two other congregants met with the Officer in Charge early in the afternoon. The officer instructed them to first register their place of worship with the local Divisional Secretariat, and then obtain a certificate of registration for submission to the police station. He further stated that, until such time, they should stop conducting religious worship activities.
"According to Sri Lankan law," states a legal representative of NCEASL, "there is no legal requirement to register places of religious worship with the government." This incident follows a series of unwarranted attacks on various churches in Sri Lanka since January. To review a previous report on the destruction of a church that took place earlier this year due to persecution, click here.
Prayerfully uphold the pastoral leaders of Calvary Church, and those legally representing them, as they meet with governing authorities regarding the worship services. May the Holy Spirit serve as their Advocate during the mediation process, granting them wisdom, the appropriate words to speak, as well as the ability to rejoice in trial (Mark 13:11; Romans 15:13). Also pray for the young people who were unfairly interrupted during their prayer gathering, asking the Lord to strengthen their spiritual resolve and fervency in prayer -- further impacting the ministry of the church and its vital outreach in the community.
---
---
The Voice of the Martyrs is supporting Christian workers who are ministering to many new believers in the West Bank, an area where tensions remain high between militant Muslims and Christians. One of the new believers being reached is a young mother, "Mary," who not only has an eagerness to learn more about the Bible, she's enthusiastically sharing her new-found faith with family members.
Recently, the woman's young child fell out of a window -- more than 36 feet from ground level -- resulting in the hospitalization of her toddler who remained in a coma for two-and-a-half weeks. Although distressed during the ordeal, Mary willingly shared her Christian faith with doctors while her son was in the hospital, and also seized the opportunity to pray for the other sick children. Throughout this time, she held steadfastly onto her faith in God and, miraculously, her son eventually recovered.
Please join us in praying that Mary's faith will grow even stronger, and that her family and those who are being touched by her Christian witness will come to the saving knowledge of Jesus.