---
For the families of the Nigerian schoolgirls kidnapped from their dormitories three years ago, grief and despair have been compounded by fear, as the perpetrators of their agony continue to terrorize their town and carry out further abductions with impunity. A previous report on the school kidnapping is available here.
Since Boko Haram jihadists abducted 276 girls from their secondary school in the town of Chibok, in the northeastern state of Borno, 23 parents have died of heart disease while many continue to battle stress-related conditions. While 81 of the girls have since escaped or been rescued, it is believed that their captors -- who initially boasted that they would sell them as slaves -- have decided to hold on to their victims after realizing how valuable their high profile has made them. As a result, more than two-thirds of the girls are still missing.
The release of 21 girls last October briefly gave hope to the Chibok families and other Christians across northeast Nigeria who have been terrorized by Boko Haram for almost eight years. However, the girls have been detained for questioning and security purposes since their release and allowed to see their parents only a handful of times. To review a report on the release of these girls from terrorist captivity, click here.
Residents of Chibok are still fearful because Boko Haram has recently attacked nearby towns, and scores of families have been displaced to Mbalala, less than five kilometres from Chibok. There is now a heavy military presence in Chibok, and three of the town's 13 schools have only partially reopened. Parents are terrified of sending their children back to school in case Boko Haram strikes again, and church activities are carried out under heavy security.
A report by UNICEF has recently indicated a sharp rise in the number of children forced to carry out suicide bomb attacks -- from 30 in 2016 for the entire year to 27 in just the first three months of 2017. The agency added that Boko Haram's abduction of children is "systematic" and "fuelling" its insurgency in the Lake Chad region. The kidnapped girls are typically forced into early marriage and sexual slavery.
Ask the Lord to minister in special ways to the victimized children and their distraught families, and all in Nigeria who've experienced great pain and loss due to Boko Haram's acts of terrorism. May there be many more victims released from captivity and joyfully reunited with their long-suffering families. Pray that the country's governing officials will clearly sense God's leading as they work together with renewed strength and unity in their efforts to liberate the captives, secure communities, and bring the perpetrators to justice. In the midst of so much suffering, we trust that the Lord will fulfil His promise to somehow use what was intended for evil and turn it around for greater good (Genesis 50:20).
---
---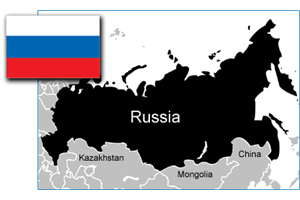 Prosecutions continue under Russia's severe "missionary activity" restrictions, resulting in the first known deportation of a foreigner. In February of this year, an Indian pastor, Victor-Immanuel Mani, was forcibly separated from his Russian wife and one-year-old child for allegedly violating the new restrictions on "sharing beliefs," according to the Religion Law and Code of Administrative Offences.
Accused of advertising religious gatherings on social media, and giving religious literature to a non-member of his church, the pastor was sentenced by the Naberezhnyye Chelny City Court in Tatarstan on December 20th, 2016. He also received a fine of 30,000 Roubles (about $724 CAD). During the trial, lawyers asserted that the meeting notices on the church's social media group were not aimed at non-members but were purely informational. The pastor also testified before the court that the accusing visitor, on his own accord, had purchased the books and helped himself to flyers.
During a subsequent hearing on January 25th, an appeal was presented to the local court. As the appeal had been denied, Pastor Mani was ordered to leave the country – even though he is also a legal Russian resident. His lawyers and the Love of God Evangelical Church are now preparing an appeal which will be presented to the Supreme Court of Tatarstan, arguing that the deportation order is in contradiction of a 2013 Supreme Court ruling: "Expulsion from the country, which is home to members of (the defendant's) family, may violate the right to respect family life."
In two other legal cases, separate appeals have been made against court orders to destroy confiscated Bibles (including an edition used by the Russian Orthodox Church) and other religious texts. This occurred despite the courts having no legal right, as the confiscated materials were not legally classified as "extremist." Additionally, religious organizations are receiving large fines for not displaying their "official full names" on publications, websites or buildings. Nizhny Tagil Evangelical Christian Church is appealing such a conviction.
"When the enemy comes in like a flood, the Spirit of the Lord will lift up a standard against him" (Isaiah 59:19). Please pray for an outpouring of God's Spirit in the courts, serving as a Defender of true justice and righteousness, and for His presence to encourage and strengthen those who are facing charges relating to new restrictions on sharing one's faith. May great peace, comfort and provision be granted to Pastor Mani and his loved ones as they wait in hopes of soon being reunited. Ask the Lord to also be with the legal representatives working on the various appeals, giving them wisdom, guidance and safety. No matter how much the government tries to suppress Christianity, may God make Himself known in the courts so that He will be glorified in each and every case.
---
---
A group of Christians are currently travelling across Algeria, distributing digital Bibles in the local languages. Sometimes they are unable to give the Bibles to specific individuals, so they are using a different approach. "In areas where we can't distribute openly, we found a solution by leaving the materials on a table in coffee shops and on the buses," reports a VOM worker.
Most of the distributed materials are for unbelievers, but the Christians are also providing materials for believers who cannot openly keep Bibles in their homes because of persecution from family members, a common problem among women who convert to Christianity. Church leaders are very grateful that persecuted believers can receive the digital materials for spiritual encouragement.
A few weeks ago, someone called into a Christian TV station saying that he had found one of the digital Bibles on a bus and wanted to know more about Jesus. Thank you for joining us in prayer for this person's salvation, and for the distributed digital Bibles to be used to bring numerous others to a saving faith in Christ.