"Don't be weary in prayer; keep at it; watch for God's answers and remember to be
thankful when they come. Don't forget to pray for us too, that God will give us many
chances to preach the Good News of Christ for which I am here in jail. Pray that I will
be bold enough to tell it freely and fully and make it plain, as, of course, I should."
Every year, I prayerfully seek the Lord's leading and focus while preparing for each annual art contest. It's essential that He makes the plans, and I follow; not the other way around.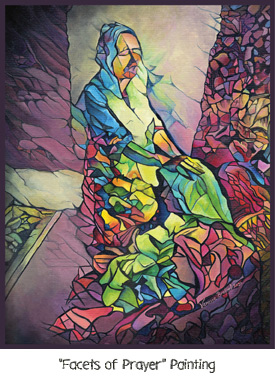 In the midst of preparing for the upcoming 2021 contest, to my delight, a wonderful photo popped into my email inbox. Good friends and VOM project partners working in Central Asia had attached the most beautiful picture of 'prayer in action.' In an instant, I knew this was the answer that was awaiting my discovery: God's theme for the new contest year.
The image revealed three women, shrouded in colourful layers of fabric, whose silhouettes were framed by shadows created merely by a shaft of light from a small window. As the women were praying, this gentle ray of light appeared to be gracefully pouring over them. It seemed exactly right to paint this poignant scene; especially the woman interceding over the two who were seated.
Honouring "Madilah's" story, while protecting her identity, required a leap out of my comfort zone and into the world of abstract design. This acrylic on canvas painting, titled Facets of Prayer, became the basis for the 2021 art contest landing page and promotional materials.
Here is "Madilah's" story:
Illiterate, like so many young girls in the Central Asian country of her birth, Madilah hungered to read. She laboured over the written language until its treasures were unlocked in her mind. With this skill mastered, she enrolled in a Bible training centre, where she met her future husband.
After the couple wed, they moved to the mountains to evangelize and minister among their Muslim and Hindu neighbours. This move required her to learn the local language as well as English. But as Madilah was motivated to share the Good News of Jesus Christ, she set about acquiring her third and fourth languages.
Currently, societal protocols prevent women of the village from exiting their homes unescorted. This leaves many of them feeling isolated. Yet Madilah has been afforded the opportunity to accompany her evangelist husband during his visits to many homes. He meets with the men, and she quietly develops relationships with their wives. Madilah uses her skill as an English teacher as a platform to share the Gospel. When asking these ladies if she can pray for them, they welcome her prayers.
Madilah is a living reminder of what it means to embrace Paul's words in Colossians 4. Even though sharing her faith and praying for many in her country could land her in hot water, she still fervently prays. She enthusiastically shares her faith. And she loudly loves her Saviour!
Don't just pray for Madilah and the women residing in closed hostile countries like hers. Instead, pray with them. May you be artistically inspired to share what vision the Lord has put within you so you can express it for the blessing of others, and for His glory.