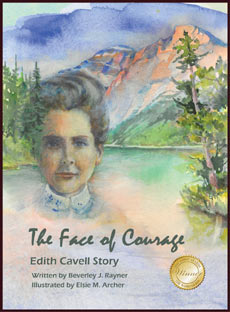 The Launch of the Triple
Award-Winning Children's Storybook



Based on the life of Edith Cavell

Saturday, October 19, 2019
2 p.m. – 4 p.m.

Youth Unlimited
273 Parkside Drive
Waterdown, ON

Topic: THE INSPIRATION BEHIND THE STORYBOOK
Including a pictorial journey of the book's historical sites.
Read article here - PDF or webpage.
Featured Guests: Author Beverley Rayner & Illustrator Elsie Archer
With Special Musical Presentation: "Abide with Me"
With Beverley Rayner's gift of writing for young audiences and Elsie Archer's keen passion for the creative arts, nothing less than the best could be expected from the fusion of such faith-filled creativity. Their talents were united in an extraordinary way to bring forth the central theme of ultimate victory over tragedy, foreshadowed by God's overpowering love for all of humanity.
Seating is limited, so be sure to register soon! Refreshments will be served during the book signing. Youth eight years of age and over are welcome to join us at the discretion of their parents/guardians.