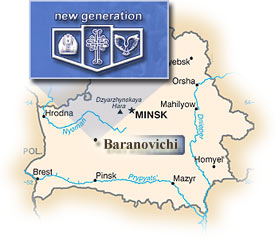 The chairman of the New Generation Church council in Baranovichi, Belarus is facing a fine for organizing an in-depth Bible study group within the registered church. When police raided the Bible study led by Gennady Akhrimovich early this year, they accused it of being an unauthorized religious gathering. A court hearing on April 6 was postponed for two weeks to allow the prosecution to adequately prepare.
The New Generation Church is also facing difficulties acquiring a place of worship. Last year, the church purchased a warehouse that they intended to convert into a church building. However, the town authorities have refused to allow the designated purpose of the building to be changed. The New Life Church in Minsk is facing a similar problem and has been ordered to sell their building. The administrator of the New Life Church, Vasily Yurevich has been summoned to an April 24 preliminary hearing on the forced sale of the building to the Minsk City Property Department.
Pray that the leaders in both the New Generation Church and the New Life Church will fully rely on the Lord for the wisdom and strength they need to effectively carry out the Great Commission in their areas (James 1:5, 2 Timothy 4:17). Pray that Akhrimovich's fine will be lifted. Pray that both churches will be allowed to establish places to meet for worship.
For more information on the persecution of Christians in Belarus,
click here
.
News reports from Belarus are also available on VOMC's multimedia website,
www.vomcanada.com