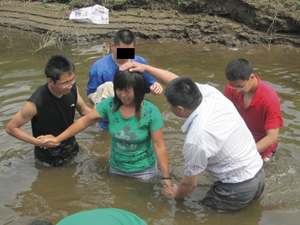 An unregistered church that holds
several mass baptisms each year.
Seventeen believers were detained during a baptism service when officials and police raided a Han Chinese house church in the far west region of Xinjiang. The raid on the Bajiahu house church in Jinghe county occurred early in June during a gathering of more than 20 Christians. The church has also been ordered to stop holding meetings.
Police officers burst into the meeting, followed by officials overseeing religion and domestic security. The 17 believers were taken into custody and held until that evening, when they were escorted home by police.
Wang Lili, the leader of the house church, was not on site during the raid. However, the purse she left at the meeting site, which contained her government ID card, keys and more than 3,600 yuan (approximately $580 CAD), was confiscated. At last report, her belongings had not been returned.
The husband of one of the detainees, who is not himself a Christian, was required to sign a guarantee that his wife will no longer attend the house church's meetings. He reportedly became very angry with his wife.
Praise God for the baptism of these believers! Pray that these believers will continue to grow in their faith in Jesus. Please pray that Wang's belongings will be returned to her. Please pray that the unbelieving husband will see Christ through his wife's faithfulness (1 Peter 3:1).
Go to the China Country Report for more on the suffering Church in China.