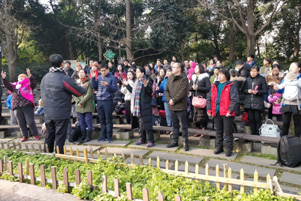 Only a few years ago, many churches in China featured crosses atop their large buildings and multi-campus congregations. Even though these churches were not officially recognized by the government, there was a measure of leniency. However, with the officials' recently implemented strategy to close every non-registered church -- resulting in the arrests of numerous Christians and the destruction of their buildings -- the realization has become clear that the true church is comprised of God's people.
When a VOM Korea representative recently met with a pastor in Beijing, he witnessed the faithfulness of a church that had gathered outdoors for worship in small groups throughout the city, regardless of the weather conditions. If one of these small groups was forced to stop meeting, then countless others continued with their gatherings.
Another Chinese church utilizes secure software which allows its congregants to meet online in small groups. Even though their church building has been shut down, this alternative allows them to continue meeting together for worship and Bible study. The perseverance of today's church is tangible evidence that many followers of Christ in persecuted nations of the world are indeed fulfilling the surety of His promise: "I will build My church, and the gates of hell shall not prevail against it" (Matthew 16:18 ESV).
Praise God for His unfailing presence and strength which are empowering His church to rise above today's challenges. Thankfully, they are utilizing innovative ways such as technology, in obedience to His admonition to not forsake assembling themselves together (Hebrews 10:25). Pray for the congregation members of each church group affected by the closures that they will continue to encourage and build each other up in the Christian faith.