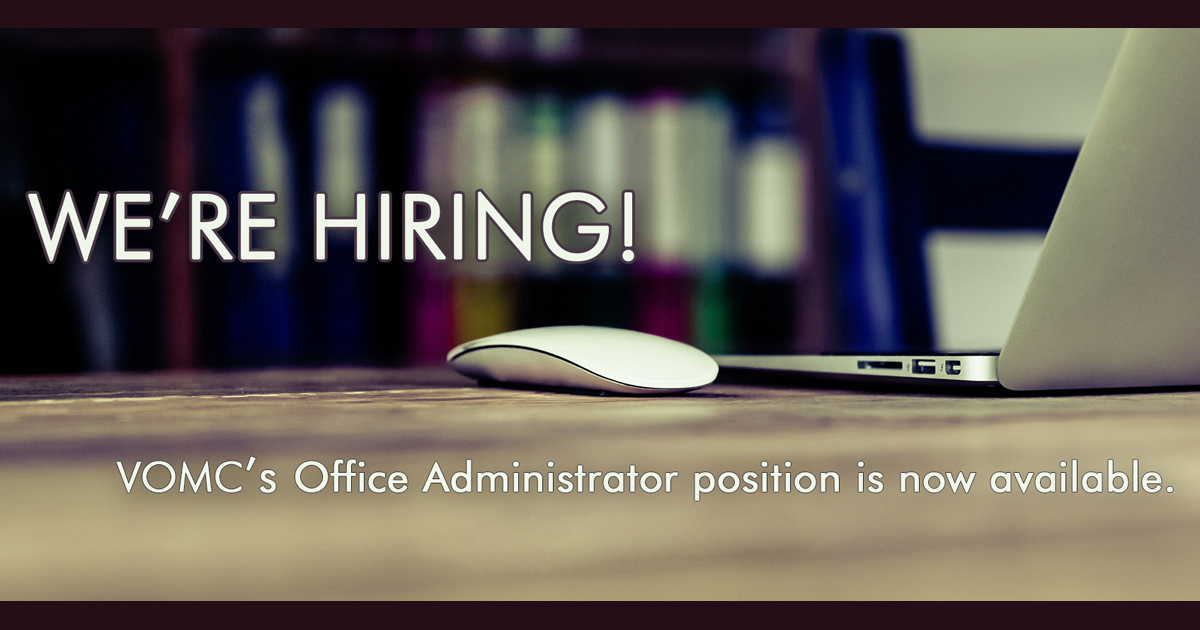 Summary of Position:
The Office Administrator works closely with the Manager of Office Administration to ensure the efficient day-to-day operations within VOMC, helping to maintain organizational systems while supporting Ministry policy and procedures.
All duties are to be executed following the Ministry's stated mission, purposes and values.
Supervisor: Manager of Office Administration - (MOA)
Duties:
Administrative: 35 %
In collaboration with MOA, establish work priorities, delegating work to administrative staff and volunteers, ensuring that deadlines are met and procedures are followed.
Assist the MOA with donor-related inquiries, complaints, activities and relations.
Assist the VP of Finance with year-end inquiries generated by our Auditors as it relates to inventory, donations, purchase orders, etc.
Assist VP of Finance with any inquiries relating to the processing of mail batches, banking, etc.
Answer basic questions resulting from phone calls pertaining to donations, customer service, general inquiries, and then forwarding specific messages to appropriate departments.
Responsible for the formatting of the monthly thank you letter and its print preparation.
Responsible for the preparation of batches for posting.
Ensure that Foreign and Bulk mailings are completed every month.
Database / Computer Responsibilities and Functions: 45 %
Data entry and maintenance to include new subscriptions, address changes, returned mail, etc.
Database clean up – contributing to the consistency of donor files and ensuring that appropriate security measures are taken for PCI Compliance.
Ensure that monthly reports (lapsed donors, donors to be removed, etc.) are completed according to their schedule or upon request.
Maintain Electronic NL, Persecution & Prayer Alert, and Eblast subscription lists to the PHP list.
Posting of batches, the printing of income tax receipts, organizing and filing of same.
Inventory / Warehouse (Books & Resources): 15 %
Complete Inventory Cycle...to include:
Keep Inventory lists and numbers for VOMC's main warehouse and work closely with the Volunteer Ministry as it relates to book and resource inventory for volunteers; conduct and assist Auditor with annual Inventory Count.
Prepare purchase orders for books and resources by liaising with VOM USA and other suppliers.
Ensure accuracy of orders received, correct invoicing and approving invoices for payment.
Accurately filling constituent's book and resource orders by picking, packing, mailing and shipping in a timely manner.
Distribution room – upkeep and re-stocking of shelves.
Print and maintain a stock list of all printed resources.
Prepare, print, pack and ship books and resources to Volunteers for events and conferences.
Other Duties: 5 %
Work closely with the Events Manager to:
Create and maintain event registrations. Compile, process and print name tags, charts, registration information, etc. Respond to any event-related inquiries.
Receive and process any inquiries via phone calls and/or emails as it relates to events.
Backup to receptionist when needed.
The MOA may assign other Duties depending on specific needs with the Mission
Qualifications:
Post-secondary education in Business Administration or related discipline or equivalent work experience.
Skillful and experienced with database software programs.
Strong troubleshooting ability.
Accuracy and efficiency in recording data.
Multi-tasking in a team-oriented environment.
Excellent Microsoft Office skills.
Experience in Graphic Design an asset.
Clerical expertise with a high level of attention to detail.
Strong organizational and communication skills (both written and interpersonal).
Excellent customer service skills.
Highly motivated and self-starter.
Must be a team player with experience in providing excellent customer service both internally and externally.