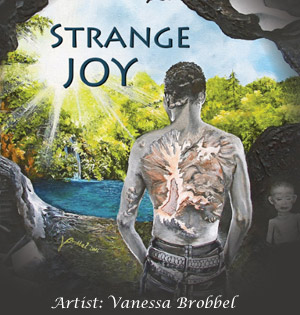 The theme for this year's art contest, "Strange Joy," comes from 1 Peter 4:12-14. May the verses and articles below inspire your submissions.
1 Peter 4:12-14
Suffering for Being a Christian
Dear friends, do not be surprised at the fiery ordeal that has come on you to test you, as though something strange were happening to you. But rejoice inasmuch as you participate in the sufferings of Christ, so that you may be overjoyed when his glory is revealed. If you are insulted because of the name of Christ, you are blessed, for the Spirit of glory and of God rests on you.
We are not to get lost in the sorrow of suffering for Christ, but in the joy of those who suffer for Christ. The unexplainable joy that the world sees in the midst of suffering and says, "What in the world do these people have to be joyful about?"

Floyd Brobbel, CEO of VOMC, recently wrote an article called Nothing Strange. He quoted this verse and wrote about how we should not be surprised by persecution:
When Jesus told His disciples that the world would hate them because it hated Him first, they took those words to heart. The hatred of the world against Jesus was on full display before His disciples as He hung on the cross. In the face of this violence, the disciples fled and hid from the authorities who were bent on crushing out the life of Jesus and His followers. Three days after Jesus' death, He rose from the grave and found His disciples in their hiding place. The astonished disciples then began to understand all the things Jesus had taught them and that their ministry was not over as they had been assuming, but just beginning. Then, prior to Jesus ascending to heaven, He charged these same disciples to go out into all of the world to proclaim the Gospel, to baptize new followers, and to instruct them in the way of Jesus.
Christians, throughout the ages, have understood that the Great Commission was not meant to be for the disciples alone but that the fulfillment of this great task was to be the life work of the church. The church has a mission to fulfill and a message to proclaim. When the church seeks to fulfill that mission and proclaim God's message, it faces the opposition of those who belong to the world...
...The power of the Church does not lie in its own ability to live out the faith in difficult circumstances, but rather it is found in its diligence to rely on a strength that comes only from Christ Himself as He builds His church in this world to radiate His glory regardless of the opposition. It is from this position that we can then begin to grasp how persecution is used by God to bring about the very things He planned well in advance of our time.