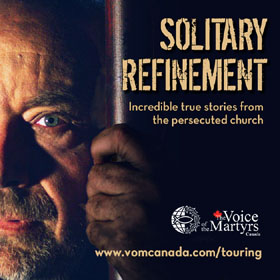 In the upcoming weeks, VOMC will be birthing the world premiere of a stage play that enacts incredible true stories of best-selling author Richard Wurmbrand (who wrote Tortured for Christ and several other insightful books), while also addressing Christian persecution around the world today. The stage play convincingly brings to life this world-renowned leader and late ministry founder whose portrayed character tells his transcendent tale from a transformative prison cell.
Award-winning playwright Dennis Hassell confesses, "In researching Richard Wurmbrand's story, I was surprised by joy. I discovered a man overflowing with hope and love -- and even humour. Amid the suffering, he found the supernatural. He found Christ...."
Dennis Hassell also performs the role of Richard Wurmbrand, in collaboration with director Tom Carson, a triple Dora Award nominee. This talented theatrical team is thrilled to be joined creatively by Emmy and Gemini Award-winning composer Tom Szczesniak in creating an original score. Videography and state-of-the-art lighting also unite in bringing audiences into the story.
After debuting in southern Ontario this April, Solitary Refinement will be commencing its nationwide tour across Canada in the fall. Please join us in praying that the Lord will mightily use this production to not only convey the realities, challenges, and inspiring moments experienced by those facing persecution for their faith but also as a means to present the life-transforming Gospel in an innovative and compelling way. For further information, and to view a theatrical trailer of this engaging production, please visit this page.