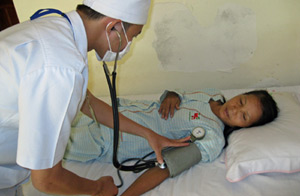 Nguyen Thi Lan's pelvis was broken in two places in
the attack on her house church, Agape Baptist Church.
Photo: Compass Direct News

More than a dozen Christian men, women and teenagers were brutally beaten and their property destroyed near Hanoi, Vietnam, in what sources say was a religiously-motivated attack.
The Christian house church leaders, as well as other assembled believers, were severely injured during a gathering in the home of Pastor Nguyen Danh Chau in Lai Tao village. A gang burst into the home at 9:30 a.m. on November 13 and warned Nguyen that they would kill him if he continued gathering Christians, according to sources in Vietnam. The attackers then beat him until he lost consciousness.
The offenders smashed chairs, overturned a pulpit and tore a cross from the wall and threw it into a nearby pond. They also destroyed motorcycles owned by four of the pastors present, which was an enormous loss for them.
The believers are members with the Agape Baptist Church, an unregistered house church organization of about 2,200 believers who worship regularly in 38 congregations. The head of the Agape Baptist Church, Nguyen Cong Thanh, met with the injured and said all he could do was weep at the violence. "Why do they gratuitously beat servants of the Lord like this -- what crime have they committed, what enemies have they made?" he said. "All we want to do is gather people to worship and serve God and our fellowman."
Please pray that those beaten will make a full recovery and that the Agape Baptist Church will grow stronger despite the violence and oppression. Pray that the perpetrators of this attack will repent and look to Christ for salvation.
Go to the Vietnam Country Report for more information on the suffering Church in Vietnam.