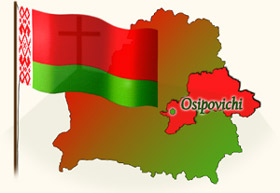 A court in the eastern town of Osipovichi has fined Pastor Nikolai Poleshchuk 2,100,000 Belarusian rubles (approximately $850 CAD) for running a Christian street library, according to a June 11 report from Forum 18. The fine, according to local Christians, is the equivalent of nearly three months' average wages -- the largest known fine issued for religious activity in Belarus. In January, Poleshchuk and another believer were approached by the head of the Osipovichi District Ideology Department and told that they had no right to run the street library since their church is unregistered. At a hearing in March, Poleshchuk was given an official warning and the confiscated Christian literature was ordered to be destroyed. At the trial on May 27-28, Poleshchuk was charged with "violation of the procedure for organizing or conducting mass events or pickets." The court also amended their decision regarding the literature and ruled that the books instead be handed to the state.
Pray that Pastor Poleshchuk will find peace in Christ in the midst of pressure and opposition for his faith (Philippians 4:7). Pray that God will embolden him and other Christians in Belarus to continue spreading the Gospel in their nation.
For more information on the persecution of Christians in Belarus, click here.