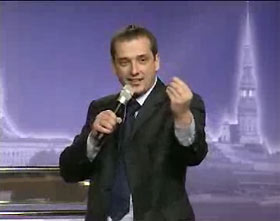 Pastor Leonid Voronenko of the New Generation church
Photo from New Generation
On July 14, a registered church in the town of Baranovichi, Belarus was fined for activity which officials claim was "not according to its statute," according to a July 16 report from Forum18. On June 21, officials of the local Ideology Department noticed that members of the New Generation Full Gospel church had placed posters around town that advertised a special Sunday morning prayer service. A half hour before the scheduled service, the chief specialist of the department arrived at the church, accusing believers of violating Article 9.9 Part 1 of the Code of Administrative Violations, which punishes "activity of a religious organization outside the statute." On July 14, a local court judge fined the church 350,000 Belarusian roubles (approximately $135 CAD), the maximum amount under this article. The congregation insists, however, that the service was within the terms of the church's statute.
Ask God to provide for and strengthen this congregation. Pray that the church in Belarus will continue to expand and flourish despite pressure.
For more information on the persecution of Christians in Belarus, click here.