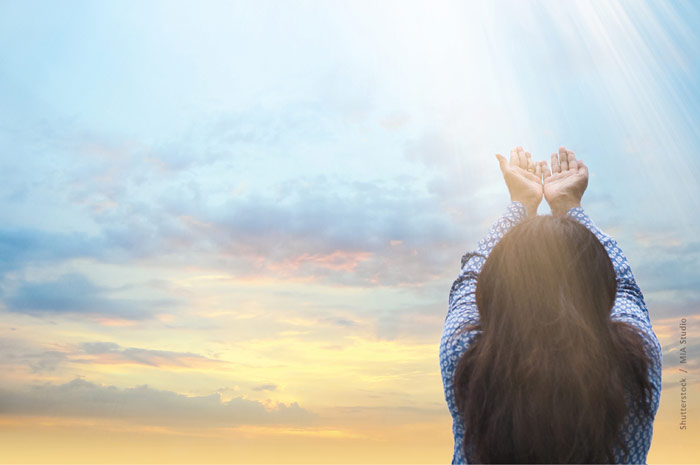 Praying for God's Presence

"Keep your life free from love of money, and be content with what
you have, for He has said, 'I will never leave you nor forsake you.'"
Hebrews 13:5 ESV
At first glance, Hebrews 13:5 might seem out of place when praying for persecuted Christians. However, its context lies within a series of practical points for living out the Christian faith. God calls His people to be distinct from those who belong to the world; and how we live reflects this difference. The Christian faith is not to be passive, quietly confined to our private lives. Rather, faith propels Christians to action, and that action is best described as 'love at work.'
Hebrews 13:1 opens with the command to "Let brotherly love continue…." This verse implies that there is solidarity within the body of Christ. Jesus' instruction to His disciples to love one another in this way (John 13:34) is an important theme throughout the New Testament and critical for the fulfillment of the Great Commission. For without love for each other, it becomes difficult for the spiritually lost to see Christ reflected in our lives. The unity and love we express within the body of Christ demonstrates to the world that we are His disciples and opens the possibility for others to believe in Christ as the Messiah sent by the Father (John 13:35; 17:20-23).
In this world, Christians will be tempted to place their trust in things rather than God. In 1 Timothy 6:10, we read that the love of money is the root of all evil because it leads to greed and selfishness. Some people love money because of the things they can purchase and consume. Others regard money as a type of "saviour" that empowers them to rise above difficulties and financial insecurity. Christian missions and ministries bear a great responsibility to steward their resources in a manner that brings glory to God and not to themselves nor their supporters. We should never be seen as "saviours," but instead as servants of the Most High God.
As I travel and meet with persecuted Christians, listening to their testimonies, I must catch myself from becoming "the rescuer." It's far too easy to listen to that inner voice which says, "You have the means, and you have the cash to help this person right here and right now." But material means and resources are not necessarily what God may require at that particular moment.
A ministry partner shared this revelation with me after meeting with persecuted pastors. My friend asked these pastors what their needs were. "You name it," he told them, "And I can get it for you. Bibles, food, cash – just tell me what you want." The pastors looked at him sadly and then replied: "This is the problem with you Westerners. You have so much that you don't feel as though you need God. We, however, have nothing, but have found that Christ is sufficient."
Famous Chinese house church pastor Samuel Lamb spent nearly 20 years in a Communist labour camp. He summarized it this way: "Christian faith is most precious when we experience it under testing. The primary purpose of prayer is not for gaining wealth or comfort, or earthly security. Faith and prayer are to make us true followers of our Lord, who suffered as the greatest example of purpose in life. I have known many dark days, but I have also experienced how bright God's light can be in times of uncertainty and fear. I am sure the Lord is more precious to me because of my experiences. Who could ask for more?"1
Money should never be the thing we cherish most, because we know it will not sustain us in the end. We must come to depend upon God's faithfulness and promises. Without Him, we are nothing, and our lives are meaningless. Therefore, praying that our persecuted brothers and sisters in Christ will be kept free from the love and lure of money is of great importance. Money cannot give the comfort God brings as He assures His children of His abiding presence. There is no other god near to those who pray as the Lord our God is to us when we call on His name (Deuteronomy 4:7).
Is this true for you? I ask myself this question as well: Have I found that Christ is sufficient – that He is truly all I need? Many of our persecuted brothers and sisters testify that God is faithful and that He will never let the righteous fall (Psalm 55:22). May this truth fill you with new confidence and boldness to live for His glory in the place He has led you.


Grace and peace,

Floyd A. Brobbel
Chief Executive Officer
The Voice of the Martyrs Canada Inc.
Prayer: Heavenly Father, thank You for Your abiding presence. You promise Your children that You will never leave nor forsake them, and that You will be near to them in any and every circumstance. I pray that our persecuted family will not look to other "saviours" but place their faith and trust in You alone. May they stand firm whenever tempted, and upright in the testing, and thereby bring glory to Your holy name. May their praise speak of Your goodness and kindness so that others may come and worship You in spirit and truth. We pray these things in the name that is above every name – Jesus, our Lord. Amen.
Endnote: 1 Ken Anderson, Bold as a Lamb, Zondervan Publishing House, Grand Rapids, MI