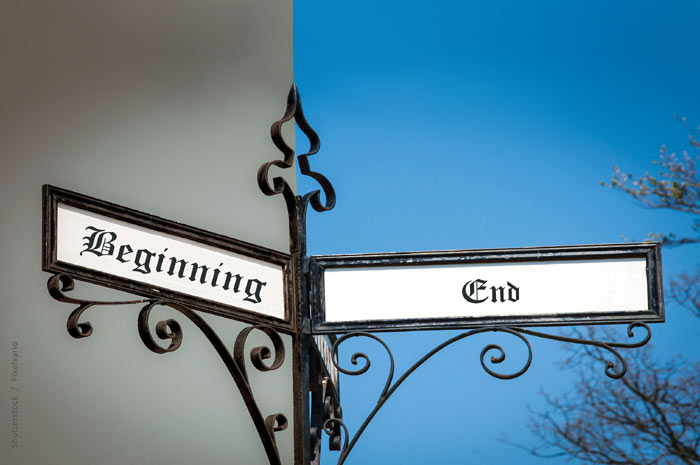 The Beginning and the End

"Thus says the Lord, the King of
Israel and His Redeemer, the Lord of
hosts: 'I am the first and I am the
last; besides Me there is no god.'"
Isaiah 44:6 ESV

This Christmas season provides another opportunity for us to anticipate and celebrate God's gift of love as revealed in His one and only Son, Jesus Christ. Jesus is not just the cute baby at the centrepiece of every nativity scene. John 1:1-3 tells us: "In the beginning was the Word, and the Word was with God, and the Word was God. He was in the beginning with God. All things were made through Him, and without Him was not any thing made that was made."
John powerfully illustrates that Jesus was not only present during the creation of the world but that He, in fact, is the Beginning. Without Him, we would not be here. John further reveals in Revelation 22:12-13 that Jesus will also bring history to an end upon His return: "Behold, I am coming soon, bringing My recompense with Me, to repay each one for what he has done. I am the Alpha and the Omega, the first and the last, the beginning and the end."
Jesus holds the divine title of "the Alpha and the Omega" and, therefore, He is sovereign over all of history. This truth is significant, for when we worship at the manger, we come knowing His true identity as Lord. We comprehend that, from the very beginning, He was God's plan for our salvation. He came into the world, lived among us, and then took upon Himself the full consequences of our sins, paying the price for our spiritual freedom. Now, as His redeemed people, we can await His return with great anticipation. Our waiting, however, is not inactive. Rather, we have been commissioned to go and spread the Good News of our Saviour's birth. As we go, we're mindful that Jesus is all we need to accomplish God's purposes in this life…until He comes again to make all things new.
I recently received a letter from a friend who trains young Christian leaders in some of the most difficult places in the world to live for Christ. These young missionaries understand the meaning of sacrifice as they trust and obey the Lord. Here is a powerful excerpt from my friend's letter:
"I scanned the faces of the 120 young missionaries and saw life, passion, fire and a readiness to suffer, a willingness to pay the cost. I asked their leader, 'How do you support them?' The answer I received was, 'Just enough not to hunger, just enough to always pray, just enough to keep longing for the Spirit to work.' I pressed him further, 'Are you able to always provide support?' 'No,' came the reply.
"I then turned to one of the young missionaries and asked, 'What happens when you have no support and get hungry?' His simple yet firm answer was, 'We pray.' I nodded my head but decided to ask one more question: 'What happens when you pray?' The missionary smiled and replied, 'We stop being hungry.' I saw a certain childlike innocence, a readiness to be transformed, and eyes filled with faith that God would see them through.
"Then I prayed, 'Lord, whatever You have given me to speak to them in these days, please don't allow me to say one word to change their minds, ever!'"
I share this story with you as a reminder that, when we follow Jesus in the places He has called us, He is indeed all we need. Jesus was present when you took your first breath, and He will be there when you draw your last. As we go out into the world like sheep among wolves, there can be no doubt that Christ is sovereign. As we face the opposition and hostility that comes with sharing the Gospel, there will be great comfort and encouragement in knowing that Jesus is "the beginning and the end."
Our Lord Jesus is coming again; of this, we can be sure. He has the authority to reward those who have faithfully obeyed Him and punish those who have disobeyed. May you find renewed strength and hope this Christmas to live for His glory and, by your witness, draw others to "the Alpha and the Omega" – "the Beginning and the End."
"Come, Thou long-expected Jesus,
Born to set Thy people free;
From our fears and sins release us,
Let us find our rest in Thee.
Israel's Strength and Consolation,
Hope of all the earth Thou art;
Dear Desire of every nation,
Joy of every longing heart.
"Born Thy people to deliver,
Born a child and yet a King,
Born to reign in us forever,
Now Thy gracious Kingdom bring.
By Thine own eternal Spirit
Rule in all our hearts alone;
By Thine all-sufficient merit,
Raise us to Thy glorious throne."1
Floyd A. Brobbel
Chief Executive Officer
The Voice of the Martyrs Canada Inc.
Endnote:1 Come, Thou Long Expected Jesus lyrics by Charles Wesley