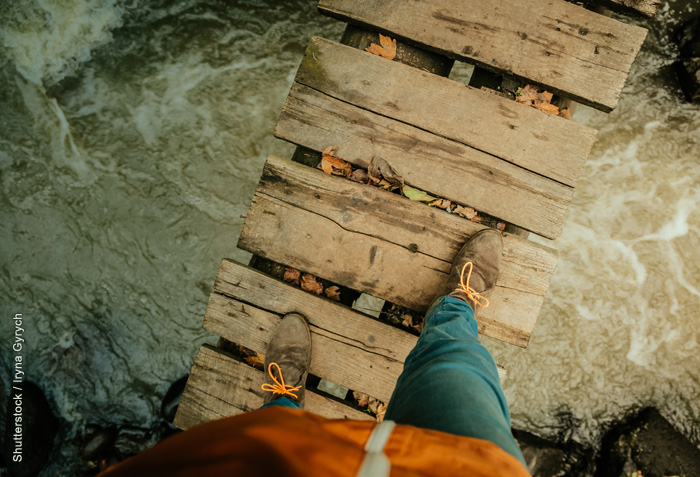 When Trouble Strikes

"Jesus promised the disciples three things – that they would be
completely fearless, absurdly happy and in constant trouble."
~ G.K. Chesterton


Within a moment, life can change – in the blink of an eye, a turn of the head, or the attention given to one's surroundings…. One second, life is as ordinary as a little boy running across the road to join his friends on the other side. Then, just as quickly, there is the screeching of tires, the smell of burnt rubber on hot asphalt, and the sickening thud of chrome hitting flesh.
I was four years old when I was hit by that car. I spent one long month recovering in the hospital and another at home. When my cast finally came off, I was shocked to see my leg so thin and frail in comparison to my opposite healthy limb. In time, my injured leg regained its proper form and strength. However, a slight dent in my left thigh with a few faint scars remains as a reminder of that past trauma.
Job 5:7 tells us that "man [humankind] is born to trouble as surely as sparks fly upwards" (NIVUK). This verse describes the lower story of our earthly lives. We can be easily blindsided by difficult situations that leave us dazed and confused, desperately trying to process the shock of what happened. These are the times when the words of Jesus hit home: "In this world you will have trouble" (John 16:33). Some trouble we can spot in advance, like when we look both ways before running across a road. Yet, the difficulties we can't see or prevent often tend to throw us into a tailspin; until we encounter the sovereign God who assures us that, despite the problems we face, there is something much grander at work and a higher purpose for all that we experience.
Elisabeth Elliot wrote: "There have been some hard things in my life, of course, as there have been in yours; and I cannot say to you, I know exactly what you are going through. But I can say that I know the One who knows. And I've come to see that it is through the deepest suffering that God has taught me the deepest lessons."1
What an incredible reminder as we struggle with suffering. Life's circumstances are not the result of random occurrences, karma, chance, nor the outcome of bad or good luck. Rather, life involves a process in which we are being changed from one degree of glory to the next; and such change can bring about pain. Yet, the suffering weaving through the fabric of our lives invites us to cling ever so closely to our loving Heavenly Father, even if the breaking of one's leg happens to be part of the narrative.
When we read the entire verse of John 16:33, this makes sense: "I [Jesus] have told you these things, so that in Me you may have peace. In this world you will have trouble. But take heart! I have overcome the world." Note that Jesus doesn't warn of impending trouble to cause us anxiety, but to instead encourage us to find His peace amid the storms of life. How is this possible? Because Jesus is victorious over any crisis we will ever encounter. His promised peace points to the much larger story of our being conformed to His likeness. During the transformative process, He provides the comforting reassurance that with His empowerment we will ultimately overcome life's challenges for God's glory.
Five years after my accident, a grade school classmate was also hit by a car. Like me, this boy remained in the hospital for some time. But, unfortunately, he lost his leg from the knee down. I remember feeling thankful because my accident could have been much worse. Still, I struggled, wondering why I was spared such loss while my friend wasn't. My Dad, sensing my struggle, explained that we can't always understand the events of life and directed me to Romans 8:28, which reads, "And we know that in all things God works for the good of those who love Him, who have been called according to His purpose." My Dad explained that while we won't always understand why certain troubles come, or why some people appear to suffer more than others, we must learn to trust in the faithfulness and goodness of God who sovereignly watches over every moment of our lives.
May peace like a river attend your way when sorrows like sea billows roll. With confidence and steadfastness, your heart can triumphantly proclaim, "It is well with my soul!"2


Floyd A. Brobbel
Chief Executive Officer
The Voice of the Martyrs Canada Inc.



Endnotes: 1 Elisabeth Elliot, Suffering is Never for Nothing, B&H Publishing Group, TN, pg. 2
2 Horatio Spafford (1828-1888), writer of the poem/hymn lyrics, It is Well with My Soul.