Chinese officials have raided house church meetings and arrested believers throughout the country in recent weeks, according to reports from ChinaAid.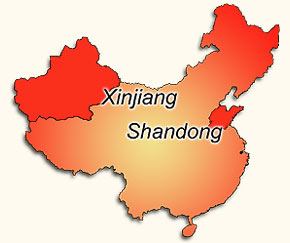 A house church was raided and eight Christians arrested in the A'Ler Tai area of Xinjiang Uyghur Autonomous Region on July 3. Two of the arrested believers have been released. At last report, four remained detained in an undisclosed location and the whereabouts of two arrested Chinese American missionaries were unknown.
On July 5, officials raided a house church worship service in Dongyong city, Shandong province. Believers were accused of "disturbing social order" for organizing a religious service for more than 40 people in a home. The house church was abolished by the authorities.
At approximately 10:30 a.m. on July 13, local police and security officers surrounded a youth camp in Hubin town, Tengzhou city, Shandong province and arrested 32 Christians, including youth and adult church workers. Property was confiscated from the Christians, including electronic equipment, Bibles and cell phones. Police told the Christian leaders, "It is forbidden for those under 18 to believe Christianity, and even those above 18 years old are not allowed to organize or participate in religious activities without permission." The Christian youth were taken to the police station where they were interrogated, threatened and beaten before they were released. The five Christians who organized the camp, including a 16-year-old, remained in detention at last report. They were without food or water for two days. On July 14, the five were given administrative detention sentences of up to 15 days for "engaging in illegal activities."
Pray for the release of those detained. Ask God to give Christians in Shandong the endurance to stand firm despite the opposition. Pray that the love and peace of Jesus Christ will be exemplified by Christians in Xinjiang, where ethnic violence recently erupted between Han Chinese and Uyghurs.
For more information on the persecution of Chinese Christians, check out the China Country Report.