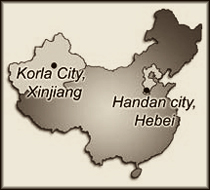 There were several incidents of attacks on Christians by Chinese authorities in recent weeks.
On December 25, Chinese authorities disrupted a Christmas celebration in Korla City, Xinjiang province and arrested several elderly Christians. One of the believers, Wang Qiuyue (71), was seized roughly and thrown against a police car. Her furniture was then set on fire as she looked on. Authorities also broke into the home of He Cuiying (69), who is half-paralyzed and confined to her bed, and set fire to 30 Bibles and other religious literature.
On the afternoon of January 8, 30 leaders of the Chinese House Church Alliance were detained in Handan City, Hebei province after a group of officers from the Public Security and Religious Affairs Bureaus barged into their Bible study. The 30 men and women were then forcefully taken to an unknown interrogation centre within the city. At last report, the authorities were threatening some of the detained pastors with 15 days of administrative detention. (Source: ChinaAid)
Pray for the release of the detained Christians. Pray the elderly believers will rest in the knowledge that the Good Shepherd is with them through their sufferings (Psalm 23). Pray that religious freedom will be respected in Xinjiang, Hebei and throughout China.
To learn more about the persecution of Christians in China, click here.