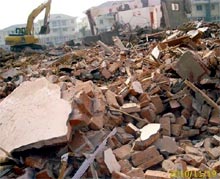 The rubble of the Chengnan Church
Photo from ChinaAid


A church building was recently demolished in Tinghu district, Jiangsu province, China. On November 19, Chengnan Church -- that belongs to the Three-Self Patriotic Movement and is legally registered with the government -- was destroyed on orders of the local government. The demolition came as a surprise, as registered churches in China do not typically face the same intensity of persecution from the government as non-registered churches. In response to the situation, ChinaAid President Bob Fu said, "While the government's powerful backhoes can destroy church buildings, they can never destroy the faith in the hearts and souls of believers. No one can stop the vigorous growth of the church in China. The Cross will surely be hoisted high in China by the glory of God and the sickle and ax will surely fall in shame."
Pray for the members of this church, as they are now without a building in which to hold worship. Pray that, despite the loss of their building, they will be reassured of their lasting and more precious inheritance (Hebrews 10:36, 37). Pray that the Word of God will continue to be declared with clarity, boldness, love and power by all believers in China.
To find out more about the opposition facing Christians in China, go to the China Country Report.