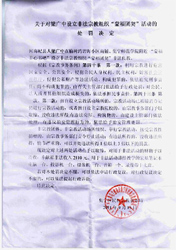 The Sept. 15 ban that was issued by the Religious Affairs Bureau
Photo: ChinaAid

Chinese police and government officials shut down a Christian student fellowship group in Inner Mongolia, China, and detained its leader in September. Authorities cited "illegal evangelism" as the reason for the ban. Mengfu (Blessed) Fellowship was forced to close and its leader, Liang Guangzhong, was put into administrative detention for 15 days as part of China's ongoing persecution of house churches and Christian groups that meet outside government-approved churches. Officials also confiscated cash from the offering collection box as well as electronics and materials used for teaching. The Mengfu Fellowship has hired a Christian lawyer to formally request a review of the orders.
Please pray that the Mengfu Fellowship would be legally vindicated and their fellowship would be restored. Pray their faithfulness will encourage other believers facing similar challenges in the region. Pray that God will raise up many more young people in China to wholeheartedly follow and serve Him.
For more on our suffering brothers and sisters in China, please visit the China Country Report.