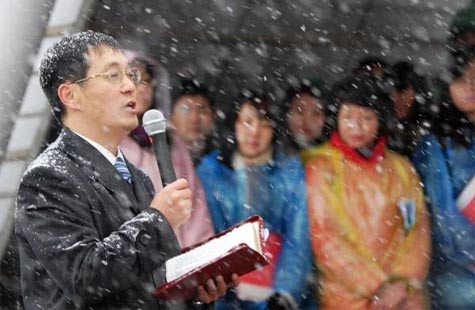 Members of the Shouwang Church were harassed, detained and
prevented from worshipping together on New Years Day.
Photo: ChinaAid
Christian believers at Beijing Shouwang Church, who had arranged an outdoor worship service after the government continued to thwart their efforts to rent premises to worship indoors, were harassed, detained and prevented from worshipping together on January 1. The church has long been a target for the oppressive government (to learn more, click here). Believers report that at least 49 Christians were taken into custody either before they were able to depart for the outdoor service or as they made their way there. Most believers were sent to 13 local police stations. Many were released home late that night and all were released by January 3.
The church had rented three different locations to conduct indoor worship services, but by the evening of December 31, 2011, all three sites notified the church that they could not lease the space to the church and had to tear up the agreement as the result of government interference and pressure. Since then, China's state and domestic security have come out in force setting up guard stations and imposing martial law at the plaza where the outdoor service had been planned. Those who had been to the plaza in the past were confined to their homes by security guards, and pastors have been under house arrest.
Please pray that our brothers and sisters at Shouwang Church will be granted the freedom to worship indoors without fear of reprisal or harassment. Pray that these believers will continue to spread the gospel despite these trials as a testament to God's sovereign power and for His glory.
For more information on China's suffering Church, go to the China Country Report.