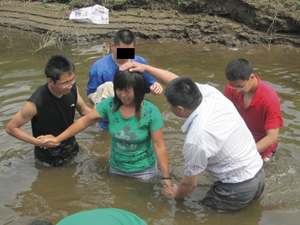 This unregistered church holds several mass baptisms each year.
More than 70 Christians were taken into custody when a house church, which had been meeting for more than two decades, was raided in western China. The church, located in the region of Xinjiang, was stormed by police on March 18. About a dozen policemen and Domestic Security Protection agents burst into Pastor He Enjun's home, and authorities on the scene declared it was an "unapproved, illegal meeting" and ordered an immediate end to the meeting. Each Christian present was photographed by force and was taken for questioning. Some believers were not released for two days. Bibles, hymnals, notebooks, Christian education DVDs and other materials were confiscated without a receipt, even though a receipt is required by law. The pastor and his wife were later called back into the local police station for further questioning. They were threatened and ordered to stop hosting meetings in their home.
Please pray that the Lord will reward the faithfulness of these believers by using them to lead even more people to the King of Kings. Pray that these believers will echo Peter's sentiment to obey God regardless of what man says (Acts 5:29). Pray that God will work powerfully in the hearts of the authorities in Xinjiang.
Please visit the China Country Report for more on the persecuted Church in China.