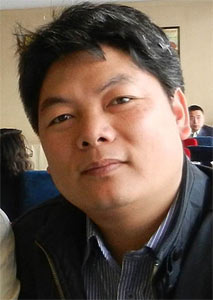 Wenxi Li
During a recent visit with his family, imprisoned believer Wenxi Li excitedly shared that several more prisoners have become Christians after hearing the Gospel message! Previous to this, while awaiting his trial last year, Wenxi had led three other prisoners to Christ.
Wenxi, who has been imprisoned since his arrest in December of 2012, was permitted to visit with his wife and family this past January. His wife, Cai Hong Li, reports that he is doing well.
In June of 2013, Wenxi was sentenced to two years in prison for his role with Enyu Bookstore in the city of Taiyuan. Officials also seized hundreds of books from Wenxi. (For more information on his arrest, click here.)
While we will certainly continue to pray for Wenxi's release, let us also rejoice in the ways in which he is sharing the "Good News" while imprisoned! Pray that the seeds planted in these other prisoners' lives will now grow and mature, and in time produce a great harvest. Thank the Lord for allowing Wenxi and his family to have some meaningful time to visit together and encourage one another. Pray that they will soon be permanently reunited!
For more information on China's persecuted church, please visit the China Country Report.