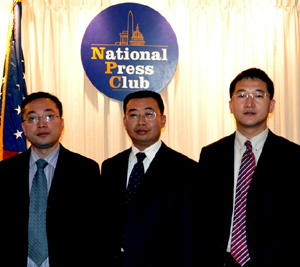 Zhang Kai (right) in Washington, D.C
Photo: ChinaAid
In January of 2014, the Chinese Communist Party secretary decided to "de-Christianize" the skyline by removing many crosses and churches under the guise of safety and beautification in the southern coastal province of Zhejiang, Xia Baolong. To date, between 1,200 and 1,500 churches have been impacted, with several pastors arrested and numerous believers wounded in scuffles with police.
In defense of the churches under attack, and China's newly implemented religion law, prominent Beijing-based lawyer Zhang Kai announced in July of 2015 the formation of a group that consists of 30 Christian lawyers. The group is known as "Lawyers for Protection of the Cross."
A few weeks ago, Chinese security forces conducted simultaneous night raids in Wenzhou, during which time they seized Zhang Kai, his assistant Liu Peng, and several Wenzhou pastors. According to Zhang's employer, no one has been informed of the lawyer's condition or whereabouts -- not even his family.
Zhang reportedly has been charged with endangering state security and assembling a crowd to disrupt social order; charges that could possibly result in six months of secretive detention. Additionally, there are grave concerns for his safety. More information on persecution in China can be found at the China Country Report.
Pray that the Lord will sustain, protect and bless Zhang Kai, Liu Peng and all the human rights' lawyers and pastors who are presently imprisoned and under threat in China. Also uphold all the believers who have been affected by this latest crackdown, asking the Lord to encourage them to persevere under trial. May this outbreak of evil against His people somehow be turned to good (Romans 8:28), while opening the spiritual eyes and hearts of many more Chinese people so they will discover the truth and goodness of our Lord Jesus Christ.