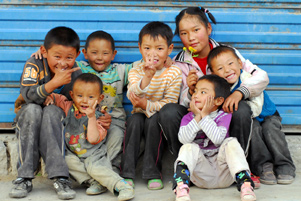 As a "semi-autonomous state" under the control of mainland China, Tibet has maintained a unique place for being predominantly Buddhist. However, since the Chinese Communist Party (CCP) has adopted stricter controls over religious activities, all religions in Tibet have been affected. Most recently, controls have been enforced prohibiting children from participating in any religious activities.
Signs have been posted on churches throughout China and Tibet, stating, "No minors." Before Tibet's school students left for summer vacation this year, a letter was sent home to their parents. Part of the letter included a notice that the students were barred from participating in any religious activities during their summer vacation.
The control of the CCP over the people is also affecting religious holidays and festivals. Celebrations demonstrating "freedom of religion" to the world are only intended as propaganda to visiting tourists, as Tibetans are specifically excluded from participating.
Pray for these Tibetan Christians as they endeavour to bring up their children in the ways of the Lord (Ephesians 6:4). May God continue to bless their efforts to teach them His statutes, while also sharing the Gospel with others of their communities by revealing the truth of the Scriptures -- and the reality of the Living Christ! Additionally, please intercede for the opposing political leaders, that they too will come to realize their need for Jesus as Saviour.