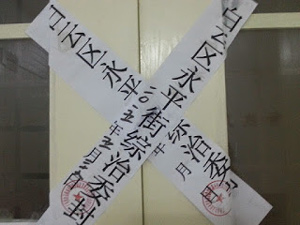 When Zion Church, one of Beijing's largest underground churches, refused to install surveillance cameras which could allow authorities to monitor them, they didn't know it would end with officials storming the church building to forcefully shut it down.
After the worship service on September 9th, government officials entered the hall where the church members met with orders to close the church and confiscate their "illegal promotional material." In August, authorities had closed seven branches of the Zion Church around the city (see this report). With this latest order, all activities of the church have been officially banned. The church's pastor, Jin Mingri, states, "I fear that there is no way for us to resolve this issue with the authorities."
Those attending the service were given pamphlets with a list of officially sanctioned churches they are permitted to attend instead. However, many believers perceive the acceptance of the Communist Party's oversight and authority as a betrayal of their faith. "On this land, the only One we can trust in is God," Pastor Jin adds. The church has resolved to continue meeting outdoors.
Pray that the leaders of the Zion Church will have the wisdom and strength of both heart and mind as they continue to lead their members through the ordeal. Also pray for the continued outreach of the Gospel throughout Beijing.