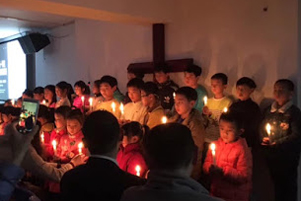 Five relatives were taken into custody after gathering outside a police station to ask about their loved ones on February 15th.
On December 9th, around 100 members of the Early Rain Covenant Church, located in the city of Chengdu, had been taken into custody (see this report). At last report, several were still imprisoned. Concerned about the condition of their detained loved ones, and wanting more information, family members gathered outside the police station with their small children.
As officers monitored them, one Christian heard the officials debating about whether to arrest them. At around 8 p.m. that evening, four spouses -- along with a child from one of the families -- were taken into custody and accused of "illegal gathering."
Continue to lift up the many Christians imprisoned in China for their faith. Pray that concerned family members will receive greatly needed news of their detained loved ones. Ask the Lord to strengthen and encourage each of these separated families. Likewise, may those who are imprisoned also be able to rest in the knowledge that their family members at home are in the hands of a loving God.