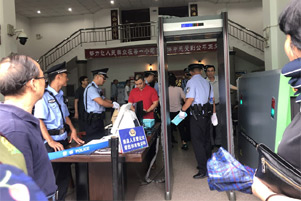 It was recently reported that the appeal hearing for American/Chinese pastor John Cao had been cancelled, for the court was to instead make its decision based solely on written submissions (see this report). On July 25th, the outcome of the court's decision was to uphold the original seven-year sentence. Due to a heavy police presence, only Pastor John Cao's elderly mother and sister, along with his lawyer, were allowed to hear the verdict.
Pastor Wang Yi of the Early Rain Covenant Church faces up to 15 years in prison on charges of "inciting subversion of state power." He remains in prison following his arrest in December 2018 (read more). To further compound his legal situation, he has now been accused of conducting "illegal business activity," due to claims that the church had sold Bibles and books without a proper license. According to ChinaAid, Pastor Wang Yi has been unable to confer with his lawyer since his initial arrest.
Please uphold these two unjustly charged church leaders, as well as the many other believers in China who are facing imprisonment for their faith. Pray that the courts will allow them proper legal representation and that God's justice will ultimately prevail in each of their situations. May every Christian facing opposition, uncertainty and fear in this Communist-governed country receive the ministry of God's abiding presence, peace, help and hope.