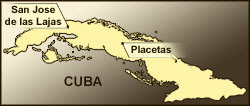 Christians in Cuba have been facing harassment and fines in recent weeks, according to reports from Christian Solidarity Worldwide.
On August 17, Gilianys Meneses Rodriguez was fined by Cuba's Placetas Tribunal for "disturbing the public order" in December 2008 when a neighbour attacked her on the street. Rodriguez suffered a miscarriage following the attack. She was fined 600 Pesos (approximately $25 CAD), which is twice the average monthly salary in the country. Several other members of the Rodriguez family have also been targeted by authorities due to the family's involvement in a decision by the Interdenominational Fellowship of Evangelical Pastors and Ministers in Cuba to leave the Cuban Council of Churches. Rodriguez's father-in-law, Pastor Roberto, has been summoned to appear in court four times on charges of "threatening behaviour." Her husband, Pastor Eric Gabriel, has been sentenced to one year probation for the same charges. The family has been forced to move away from their home in Placetas due to concerns for their safety.
Alexi Perez, a leader in the Apostolic Evangelical Church in San Jose de las Lajas, Havana province, is facing accusations of alleged criminal activity. Perez, who at last report has been detained for over a month in a Havana jail, was originally imprisoned on charges of "illicit economic activity." Although these charges have since been dropped, he is currently facing new charges of "illegally receiving construction materials." Perez serves as the driver for the pastor of his church, Mario Alvarez, who has been under intense pressure from the authorities since 2007. Authorities have reportedly attempted to pressure Perez into implicating Pastor Alvarez. At the time of Perez's imprisonment, Pastor Alvarez received official notice that the government was beginning eviction proceedings against him. Perez's case follows several recent incidents of crackdowns against members of the Apostolic Church by Cuban authorities. In May and June, at least 60 pastors were temporarily detained and threatened on charges of "social dangerousness."
Ask God to provide for and sustain the Rodriguez family. Pray for endurance of faith for Alexi Perez and other Christian leaders facing trials. Pray that the Church in Cuba will continue to reach out with the news of God's grace.
To learn more about the opposition facing Christians in Cuba, go to the Cuba Country Report.