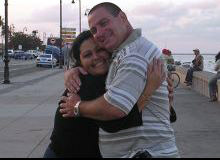 Pastor Omar Gude Perez
Photo from CSW
Pastor Omar Gude Perez, a Cuban pastor who was sentenced to six years in prison on false accusations of illicit economic activity, falsification of documents and human trafficking in 2009 (
click here
for details), has been denied the right to appeal by the Supreme Tribunal in Havana. Pastor Omar's wife stated that the court's decision confirmed her belief that his arrest and imprisonment was orchestrated at the highest levels of government.
Pastor Mario Alvarez, another Cuban pastor who has been under intense pressure from authorities in recent years (click here for details), has appealed to the Supreme Tribunal to prevent what he believes is the illegal confiscation of his home. At least 30 other church leaders from the same network as Pastor Mario and Pastor Omar were arrested and detained in various parts of the country during 2009 and authorities have reportedly threatened to confiscate several of their homes. (Source: Christian Solidarity Worldwide)
Ask God to give enduring strength and peace to Pastor Omar in prison. Pray for guidance for Pastor Mario as he boldly stands up for recognition of his religious rights. Pray that the Church in Cuba will continue to reach out with the news of God's grace, despite the opposition from the government.
To find out more about suffering Christians in Cuba, click here.