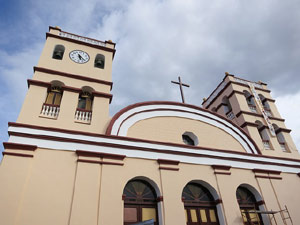 Reverend Jesús Noel Carballeda, a 45-year-old Cuban pastor of an unregistered church in Havana who had been detained since early February for holding unauthorized religious services, was released on August 31st. Prior to his most recent imprisonment in the Valle Grande prison of San Antonio de los Baños (located outside of Havana), Rev. Carballeda was previously imprisoned in the year 2000 for four months after militant communist neighbours filed legal complaints about church services being held in his family home in Marianao, Havana.
The church is associated with the Apostolic Movement, a fast-growing network of churches that the Cuban government has refused to register. Because the religious group is unable to receive the necessary permits for a designated place of worship, all of the church's affiliated activities are technically illegal.
The detention of Rev. Carballeda is part of a larger crackdown on religious freedom that has taken place in Cuba over the past few years. Unregistered religious groups have been a particular target of government repression, with religious leaders reporting harassment, fines and threats of confiscation or destruction of property. Other persecution stories, including praise reports, are available at the Cuba Country Report.
Thank God for His goodness in ensuring Rev. Carballeda's release from prison. Ask the Lord to now help him overcome the challenging setbacks he encountered in recent months. May this persevering church leader and his family be ministered to personally and given wisdom while making decisions concerning the future of the church. Pray for continued church growth all across Cuba, despite the country's oppressive spiritual climate, asking the Lord to further equip believers with courage in the midst of opposition.