God's Peaks Lodge together with
The Voice of the Martyrs Canada presents...
Discipleship Training
RETREAT
April 17-19, 2020
A Biblical Understanding of Persecution and Discipleship

---
God's Peaks Lodge
Parson, BC
(30 min south of Golden,
nestled in the Rocky Mountains)
Early Bird deadline: March 25, 2020
SINGLE RATE
Early Bird $153
(after March 25, $168)
Includes Meals, Seminars, and "Hostel-Style Lodging"
(bring bedding and towels)
COUPLE RATE
Early Bird $396
(after March 25, $436)
Includes Meals, Seminars, and a "Private Room for Two" with attached bathroom
(bring bedding and towels)
LOCALS or RVer's RATE
Early Bird $103
(after March 25, $118)
Includes Meals, Seminars, and "RV Parking" (bring your own RV)
---
Topic: A Biblical Understanding of Persecution & Discipleship
This weekend seminar will help us to better understand why Christians have suffered for their faith over the past two thousand years, and even in these present days.
Over the weekend, we will explore why God's people are persecuted and the different kinds of persecution they face. While examining both the Old and New Testaments, we will cover several relevant topics: What does it mean to take up our cross? How should the followers of Jesus respond to persecution? How does it advance God's Kingdom? How is persecution used in discipleship? Can we stop the persecution of Christians?
Along with the teaching, Greg Musselman will also share many stories of today's persecuted church. You will be inspired and challenged over the weekend, which will further strengthen your faith in Jesus and ignite a great passion to serve Him!
Speaker: Greg Musselman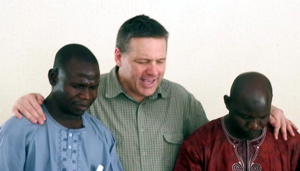 Based in Alberta, Greg began his full-time ministry with The Voice of the Martyrs Canada in 2003, after serving for three years as a volunteer. Over the years, he has reported from restricted and hostile nations in Africa, Europe, Asia, South America and the Middle East, interviewing hundreds of persecuted Christians. Along with being interviewed for numerous television and radio broadcasts in Canada and the United States, Greg himself produces video documentaries, as well as radio and television programs.
Greg actively shares the message of the persecuted in churches, college campuses, and at conferences across Canada. Through his extensive travels, he has spoken in many churches and Bible colleges around the world. His inspiring book, Closer to the Fire: Lessons from the Persecuted Church, was released in 2012. As co-host of the national daily Christian television program, 100 Huntley Street, he has the opportunity to present the Gospel to viewers who are spiritually seeking while ministering to the Canadian church at large.
Equipping the Saints Fund
Any donations made at this retreat will go to the Equipping the Saints Fund. The Equipping the Saints Fund helps to meet the educational needs of today's persecuted church and provides training for believers who are facing potential persecution. We accomplish this by conducting intensive training seminars, which are held in-country, to empower leaders and teachers so they can educate and train their own people. By supplying qualified teachers, Bibles and other helpful resources, we are able to partner with Christian leaders in "equipping the saints."
Schedule
FRIDAY
7:00 PM - Arrival and Registration
8:00 PM - Welcome (Introduction with Greg)
9:00 PM - Snacks and Games
SATURDAY
7:30 AM - Coffee
8:00 AM - Breakfast
9:00 AM - Seminar Block 1
10:30 AM - Free time (Volleyball)
12:00 PM - Lunch
1:30 PM - Guided Ridgeline Hike or Trail Bike Ride (bring your own bike)
5:30 PM - Dinner
7:00 PM - Seminar Block 2
9:00 PM - Worship and Snacks around the Campfire
SUNDAY
7:30 AM - Coffee
8:00 AM - Breakfast
9:00 AM - Seminar Block 3
10:30 AM - Free Time (Volleyball)
12:00 PM - Lunch
1:30 PM - Departure
end accordion