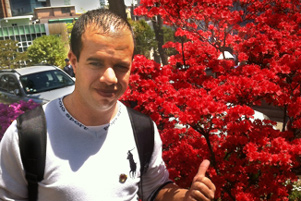 In April 2016, Idir Hamdad was returning to Algeria from a study trip to Amman, Jordan. When his luggage was inspected at the airport upon return, customs officials found his Bible and some other Christian books, along with some cross-shaped keychains he had been given. He was interrogated for eight hours, during which time the officers insulted his faith and told him that if he renounced Christianity, he would be freed.
Eventually all the items, including his personal Bible, were confiscated. In September, Idir learned that he had been convicted in absentia and, therefore, given a fine plus six months in jail for importing religious items without a licence.
On May 3rd, 2018, an appeals court overturned his initial prison sentence but upheld the fine of 20,000 dinar (approx. $225 CAN). Finally, on July 9th, all charges against him were dropped. In its ruling, the court stated that Idir has been prosecuted "simply because he converted to Christianity, and what he was carrying were only gifts." Idir is thankful that this situation has finally been resolved. "I am happy to be free at last," he proclaims.