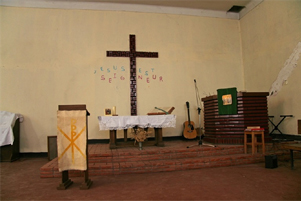 Churches in Algeria continue to face court-ordered closures, as the Algerian authorities tighten restrictions on non-Islamic places of worship (also see this page). Over the past year, most churches affiliated with the Algerian Protestant Church Association (APCA) have been visited by officials, reportedly to check for safety code violations. As part of their inspection, they also ask to see their licenses -- officially designating their buildings as non-Muslim places of worship. However, the government has yet to issue any such licenses under this regulation.
Several churches have been ordered to cease all operations. One such church in the village of Azaghur was inspected in December 2017 and, as part of the inspection, was cited for violations regarding foreign visitors among other things. On October 16th, authorities took action and sealed the building.
In another incident, a court ordered the closure of an APCA church in Ait Djemaa on November 14th. According to the courts, the building is zoned for residential or commercial use only, and not as a place of worship. The APCA intends to appeal the ruling.
May God grant wisdom, encouragement and favour on behalf of these church leaders in Algeria as they face pressure from government authorities and the courts. Pray that the opposing members of government will realize that Christianity is not a threat to the country but rather a means of blessing the general populace through its compassionate community outreaches and humanitarian efforts. May the authorities allow these places of worship to continue in ministry.