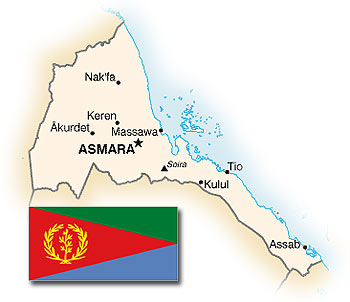 According to an October 30 report from Compass Direct, government forces have sealed a complex in the Eritrean capital of Asmara that has been rented to the Full Gospel Church for use as their headquarters and meeting place for the past eleven years. On September 17, 2002, soldiers entered the complex and refused to leave, declaring it government property. Since then, five soldiers have remained in a section of the complex. On October 15, government forces ordered the church staff and members to hand over the building, saying that the church had violated presidential directives and was involved in an illegal "cell-group" ministry. On October 26, the building was completely sealed and church members were refused entrance.
The Eritrean government refuses to recognize the Full Gospel Church and a dozen other independent Protestant churches with a combined membership of around 20,000 members. Since May 2002, all of these churches have been ordered to close their church buildings and stop both public and private meetings.
Christians in Eritrea face constant harassment and the threat of imprisonment for their faith. On September 7, twelve young people were arrested and were told they would only be released when they deny their faith. At last report, the twelve remain in custody, refusing to deny Christ. On October 5, the police pressured their parents to persuade their children to sign the denial. According to a fellow evangelical, "These arrested Christians don't care about what happens to themselves but many are worried about what might happen to their parents now."
In August, sixty-two young people were arrested for possessing Bibles at the Sawa summer military camp. All but six have been released, and none of those freed will discuss the terms of their release. At present, there are 230 known evangelicals in prison for their faith. The government denies that there is any religious persecution in Eritrea.
Pray for spiritual, physical, and emotional strength for those in prison for their faith in Eritrea. Pray for their families and for the many Christians harassed and not allowed to worship freely. The Voice of the Martyrs would urge you to write a polite letter to the Eritrean embassy or consulate in your country, protesting their mistreatment of evangelical Christians. You can find contact information at http://www.un.int/eritrea/world.