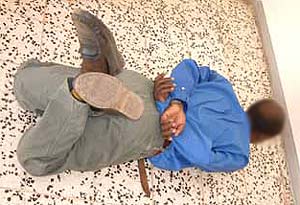 Eritrean believer demonstrates how he was tortured by police
Over the past two years, hundreds of evangelical Christians in Eritrea have faced prison and torture after all evangelical churches were ordered closed in May 2002. In a January 30 report from Compass Direct, it was revealed that neighbours of the outlawed evangelicals have been hired to spy on their activities, reporting any gatherings. Those who cooperate as spies have been granted exemption from military service and luxuries such as allotments of sugar and flour.
At last report, at least 286 evangelicals are imprisoned for their faith, many facing the promise of release if they renounce their faith. Although freedom of religion for all is guaranteed in the Eritrean constitution, there are only four recognized religious organizations: Islam, Roman Catholic, Eritrean Orthodox and Evangelical Lutheran.
For more information on persecution facing Christians in Eritrea, go to https://www.vomcanada.com/eritrea.htm.