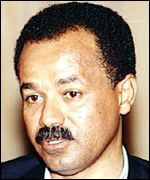 Eritrean President
Isaias Afwerki
For the first time since May 2002 when evangelical Christianity was declared illegal in Eritrea, criminal charges have been laid against those who are not a part of the officially recognized churches.
In the past week, the Voice of the Martyrs has learned that authorities have begun raiding private homes, arresting families caught praying and reading the Bible together. According to Compass Direct, Kelete, a leader of the Rema Charismatic Church in the capital of Asmara, was having family devotions with his wife, six children, and father-in-law when police raided the home, arresting the entire family. The following evening, another leader named Habeteab was arrested with his wife and five children. Both families were transferred to the Adi Abeto prison outside Asmara. Habeteab has been charged with trying to start "a new religion."
On February 23, ten believers were meeting in a home in the Aba Shwale district of Asmara when they were arrested. All but the elderly lady hosting the meeting remain in prison. However, she was fined 500 Nakfa ($68 CDN), more than half a month's salary.
On February 25, the Persecution and Prayer Alert reported on the arrest of fifty-one evangelicals (click here for more details). Forty-six of these remain in prison, likely facing torture. Earlier this month, Eritrean president Isaias Afwerki warned that efforts to "distract from the unity of the Eritrean people and distort the true meaning of religion" by these unlawful religious groups would not be tolerated. In May 2002, the Eritrean government outlawed all religious groups other than Orthodox, Catholic, Evangelical Lutheran and Muslim. At least three hundred and seventy-three Protestant Christians are presently imprisoned for their faith.
Pray for strength and faithfulness for the many believers living in fear of arrest and torture. Pray for endurance for those facing torture for their faith. Pray that the Eritrean government will reverse its decision to outlaw most religious groups.
The Voice of the Martyrs Newsletter for April 2004 will feature a comprehensive report on the plights of Eritrean Christians. To sign up for the newsletter, click here.
For more information on persecution facing Christians in Eritrea, click here.