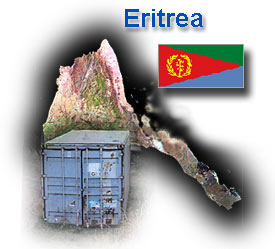 Last week, the Persecution and Prayer Alert reported on a series of arrests made against Eritrean Christian businessmen, starting on December 22. Recent reports from Compass Direct and Strategic World Impact have provided further details on the arrests and the continuing oppression of Christian leaders in Eritrea.
During the initial police raids, one pastor named Simon from the Church of the Living God managed to escape from security forces shortly after his arrest and, at last report, he is still in hiding. His family and his congregation have suffered greatly as they attempt to protect him from harm. Simon's family has faced almost daily threats and harassment from officials. One member of his board, a government worker named Mr. Tesfagabiet, has been arrested. Another member of his congregation and the owner of Gazella Shoe Factory named Mr. Yemane was also arrested. Police are also reportedly searching for Pastor Simon Tekie of the Philadelphia Church.
Pray that the gospel will continue to go forth despite the government's intense effort to silence it. Ask God to surround Pastor Simon and Pastor Simon Tekie with His protection. Ask the Lord to work in the hearts of officials to release not only Mr. Tesfagabiet and Mr. Yemane, but also the thousand plus believers suffering in prisons across Eritrea.
For more information the persecution of Christians in Eritrea, click here. Video reports from Eritrea are also available on VOMC's multimedia website, www.vomcanada.com.