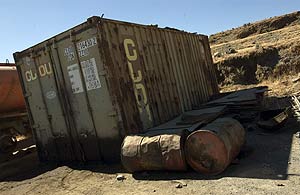 Many Christians, including those who escaped recently,
have been held in shipping containers like this one.
In the early morning of May 16, fifteen Christians escaped from a military training camp in Asabe, Eritrea and attempted to escape across the desert into neighbouring Djibouti. According to June 23 report from Open Doors U.K., the men had been detained in metal shipping containers for the past two years because of their faith in Christ.
Military police pursued the men when they were discovered missing. After two days, the bodies of five of them were found dead from exposure. At last report the other ten had not been found and there was no indication if they were successful in crossing the border into Djibouti. If they remain in Eritrea, their lives are in grave danger. More information will be released if it becomes available.
Pray that, if there are survivors, the Lord will bring them safely to a place where they can recover from their ordeal. Pray that the families of the deceased will find comfort in the fact that Christ is victorious over death, and their loved ones will be raised with Him. Pray that, in view of this promise, they will continue to give themselves fully to the work of the Lord (1 Corinthians 15:50-58). Continue to pray for the safe release of the many Christian prisoners in Eritrea.
For more information on the severe persecution facing Christians in Eritrea, click here.