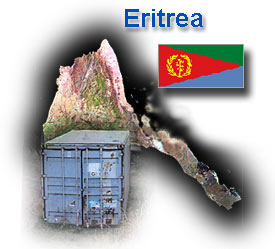 New information obtained by Compass Direct suggests that at least 1,918 Eritreans are presently in prison for their religious beliefs; ninety-five percent of them Christians. They are being subjected to torture and forced labour because of their faith. According to Release Eritrea, these numbers mean that approximately one in ten Eritrean evangelicals are presently being detained. One fourth of those in prison have been there for two or more years. None have been brought before a court of law to be charged or tried
During the month of August, at least twenty-nine Christians were arrested. Authorities have also clamped down on relief and development efforts of the Kalehiwet Church and are threatening to close an Anglican elementary school in Asmara.
Pray that those in prison will remain faithful to the Lord. Pray that they will be encouraged in the fact that God is with them in their afflictions (Isaiah 63:9). Pray that God will move the hearts of Eritrean authorities to stop the oppression of God's people.
For more information on Eritrea and the persecution of Christians there, click here. Testimonies of Christian Eritreans who have been forced to flee their country have recently been added to VOMC's multimedia website, https://www.vomcanada.com/. Log on to hear their stirring accounts.