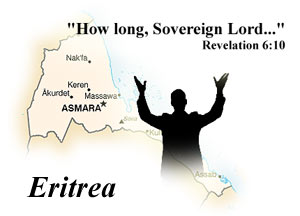 Two Christian prisoners have been tortured to death by Eritrean security police, according to an October 18 report from Compass Direct.
Immanuel Andegeresgh (23) and Kibrom Firemichel (30) were arrested on Sunday, October 15 while attending a private worship service in the home of Teklezgi Asgerdom. After two days in military confinement, Andegergesh and Firemichael died from torture wounds and severe dehydration.
A former Eritrean church leader and VOMC spokesman, Bernie Daniel, was familiar with these two men and said: "I see [their deaths] as a significant escalation of the situation. I just hope and pray that this has been done by some wayward officials in those small towns. But, if it is taken as government policy, it will be, indeed, a very sad and significant escalation."
Ten other Christians who attended the religious service were also arrested and have reportedly been subject to severe mistreatment. Their current status is not yet known.
Pray that the families of Immanuel and Kibrom will be comforted by Christ's victory which will reunited with their loved ones (1 Corinthians 15:50-58). Pray that the government leaders will come to respect the rights of all Eritrean citizens to live out their faith (1 Timothy 2:1-2). Pray for the safety of those still in prison. Pray that they will remain faithful in the face of pressure to deny Christ.
A video interview with Bernie Daniel on this situation is available on VOMC's multimedia website, https://www.vomcanada.com/. For more information on the persecution facing Eritrea's Christians, click here.