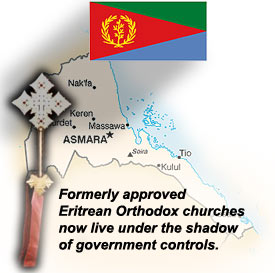 The Eritrean government consistently claims that the freedom of religion is respected in Eritrea, despite the closing of all churches in 2002 except the Eritrean Orthodox, Roman Catholic and Lutheran churches. In recent months, however, even these approved churches have come under pressure from the authorities. In January 2006, the government removed the patriarch of the Eritrean Orthodox Church and appointed their own person to the position. According to a December 14 report from Compass Direct, the government has now ordered that all of the church's finances be run through the government coffers. A December 5 order mandates that all tithes must be deposited into a government-controlled account from which priests would be paid. The government will also be restricting the number of priests allowed in each parish. The church leadership has reportedly agreed to these restrictions. Similar restrictions on the Roman Catholic Church are being rejected.
There are also reports that nine truck drivers working for the Christian relief organization, Samaritan's Purse, were arrested on December 4 as they were driving toward the Eritrean-Sudanese border. The drivers, most of them known to be evangelical Christians, remain in custody in Police Station No. 6 in Asmara. Last month, Samaritan's Purse was ordered to leave the country. It is the eleventh international aid organization expelled this year. Eritrean officials claim the expulsions are to protect the country from dependency on foreign aid.
Pray that these attacks against Christians will cease. Pray that Eritrean believers will be able to meet together despite opposition (Hebrews 10:23-25). Ask God to work in the hearts of those persecuting the believers so that they will come to know Him as Lord.
For more information on persecution of Christians in Eritrea, click here.