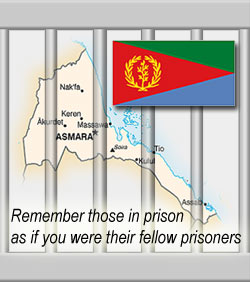 Pastor Habtom Tesfamikael, one of the last remaining free Christian leaders in Eritrea, was recently arrested and imprisoned, according to VOMC sources. He was a pastor of one of the largest Pentecostal churches in Eritrea, the Asmara Full Gospel (Mulu'e Wengel) Church. Pastor Habtom is a married man who has been serving the Lord for more than thirty years.
Pray for the Lord's grace to abound in Pastor Habtom while he suffers. Pray that God will meet the needs of his wife according to His glory (Philippians 4:19). Pray that the members of Pastor Habtom's congregation will not give in to fear and despair but be enabled by God to stand firm in their faith. Ask God to continue to bring forth more Christian church leaders to guide those whose leaders are imprisoned (Luke 21:13-15).
For more information on the persecution facing Eritrea's Christians,
click here
.