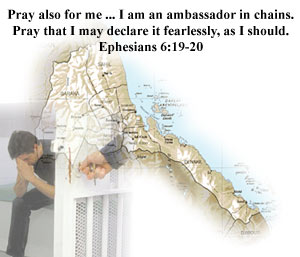 Three Eritrean church leaders were unexpectedly released on bail in late January, according to a February 15 report from Compass Direct. Two of the men, Pastor Simon Tsegay and Gebremichel Yohannes, had been in custody since September. They had been arrested when their church continued to use a church building in the town of Adi-Tezlezan after it was sealed by government order. Tsegay was the pastor and Yohannes was the administrator of the church. Pastor Fanuel Mihreteab of the Full Gospel Church has also been released on bail after serving two years in prison. All three men were forced to turn over property deeds as bail guarantee.
At last report, more than 2000 Eritreans are jailed solely for their religious beliefs. The majority are Protestant Christians.
Thank God that these men have been released on bail. Pray that they will not face imprisonment again. Pray that they will remain faithful to God's call on their lives (1 Peter 5:1-4). Pray that the tide of persecution in Eritrea will turn and believers will once again be free to share Christ with others.
For more information on the persecution of Christians in Eritrea, click here. Video reports on Eritrea are available on VOMC's multimedia website, https://www.vomcanada.com/.