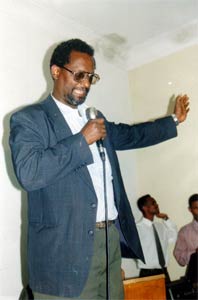 Pastor Michael Abraha
At least twenty Christians, including several young children, were arrested and detained when security forces raided a home in the town of Dekemhare, 40 km south of the Eritrean capital of Asmara, on May 27. According to a June 6 report from Release Eritrea, the authorities went to the home expecting to apprehend a group of Christians gathered for prayer. When they did not find such a meeting taking place, they arrested the families living in the home and several other Christians in the neighbourhood, including a well-known Bible teacher and church leader, Pastor Michael Abraha of the Kale-Hiwot Baptist Church. They also confiscated videos of a wedding conducted by Pastor Abraha. There is considerable concern for the Pastor's health as he suffers from diabetes.
Pray for the Lord's grace to abound in Pastor Michael while he suffers for the Name of Christ. Pray also that he will receive appropriate medication for his diabetes. Pray that the members of Pastor Michael's congregation will not give in to fear and despair but be enabled by God to stand firm in their faith. Ask the Lord to continue to bring forth more Christian church leaders in Eritrea to take the place of those who are imprisoned (Luke 21:13-15).
For more information on the persecution of Christians in Eritrea, click here.