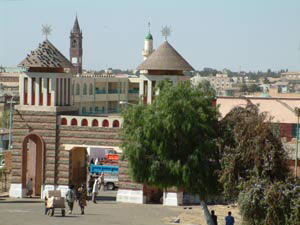 Asmara, Eritrea


There were several recent incidents of persecution of Christians in Eritrea, according to an August 23 report from Compass Direct.
Reverend Leule Gebreab (35), who pastors the Apostolic Church in Asmara, has been missing since he failed to return home to his wife, eight-year-old son and infant daughter on August 12. His whereabouts are unknown despite inquiries to the local authorities.
On August 16, Eritrean authorities issued an ultimatum to Catholic church leaders ordering that all of the church's schools, clinics, orphanages and women's vocational training centres be turned over to the government's Ministry of Social Welfare and Labour. Four Catholic bishops reportedly sent a letter of protest to the government the following day. At last report, they had not received a response. The Faith of Christ Church received similar orders to relinquish control and possession of all its social aid institutions. The orders were allegedly based on a 1995 government decree requiring non-governmental welfare initiatives to obtain specific permission from authorities.
On August 19, ten members of the Full Gospel Church who had gathered in a home were arrested by the police in the suburb of Kahawata, Asmara. The four women and six men were accused of worshipping together and detained at the local police station.
Pray that Pastor Gebreab will return home safely. Pray that Christians will have boldness of faith in the face of government opposition. Pray that those detained will be released and that, during their detention, they will share the light of Christ with others.
For more information on the persecution of Christians in Eritrea, go to the Eritrea Country Report.