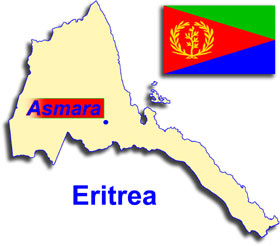 VOMC sources report that Mussie Ezaz, an evangelist in the Kale Hiwot Church of Eritrea, was arrested from his home in the capital city of Asmara and imprisoned last week. Evangelist Mussie has been serving the Lord full-time for more than a decade. He is married with three children.
Pray for the Lord's grace to abound in Evangelist Mussie while he suffers for the sake of Christ. Pray that God will meet the needs of his wife and children according to His glorious riches in Jesus Christ (Philippians 4:19). Pray that Eritrean Christians will continue to stand firm in their faith by the enabling grace of our God. Ask God to bring forth more Christian church leaders and servants of the Gospel to advance the cause of Christ (Luke 21:12-15).
For more information on the persecution of Christians in Eritrea, go to the Eritrea Country Report.