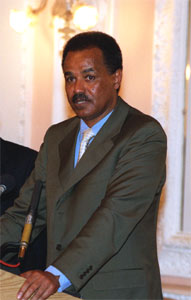 President Isaias Afewerki


The Eritrean government has ordered the expulsion of thirteen Catholic missionaries, according to reports from the missionary news agency MISNA and the Catholic Information Service for Africa (CISA). Expulsion orders were issued on November 6 to four Comboni fathers (two Mexicans, a Filipino and a Kenyan), two Comboni sisters, two Pavonian fathers, two Filipino Pius Teachers, two nuns of an unspecified congregation and a lay Italian missionary who works as secretary for the Bishop of Barentu. They were told that they had fourteen days to leave the country.
The reasons for the expulsion remain unclear but sources told MISNA that two years ago the government gave notice to some missionary institutes to prepare local personnel in anticipation of a planned exit of foreigners from the nation. The Voice of the Martyrs believes that this expulsion is part of a wider plan by the Maoist dictatorship of President Isaias Afewerki to destroy or control Christianity in the east Africa nation.
Please pray for Eritrean Christians as they continue to suffer harassment at the hands of the Eritrean government. Pray for the many who are in prison because of their religious work.
For more information on the persecution of Christians in Eritrea, go to the Eritrea Country Report.