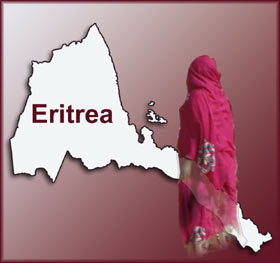 Three Christian women were released from an Eritrean military camp on May 8, according to the Dutch branch of Open Doors. All three were originally detained for being members of a "banned" Christian movement after openly expressing their faith in a predominately Muslim village. A friend of one of the women arranged to have her arrested after she shared with him that she had converted from Islam to Christianity. She was taken to a military camp where her hands and ankles were tied and her faith ridiculed in front of the camp's military leaders. When threatened with a gun, she provided the name of the woman who told her about Jesus. This woman, also a convert from Islam, and another believer were then taken to the camp.
Six months later, the women were brought before the camp's leader and told that they would be released if they agreed to stop preaching the Gospel and promised not to disclose details of their detention. The women said that while they were "no enemies of the Eritrean people or of the government," to stop sharing God's Word would be against their God-given convictions. The camp leader eventually decided to release them without condition.
Praise the Lord for the release of these believers. Ask God to continue to give them strength and boldness to tell others about Jesus. Pray that other Christians detained in Eritrea will be released. Over 2,800 Christians remain in detention without being charged or convicted of any crime.
Find out more about the suffering of Eritrean Christians.